YUKIHIRO ISSO (nohkan - noh flute)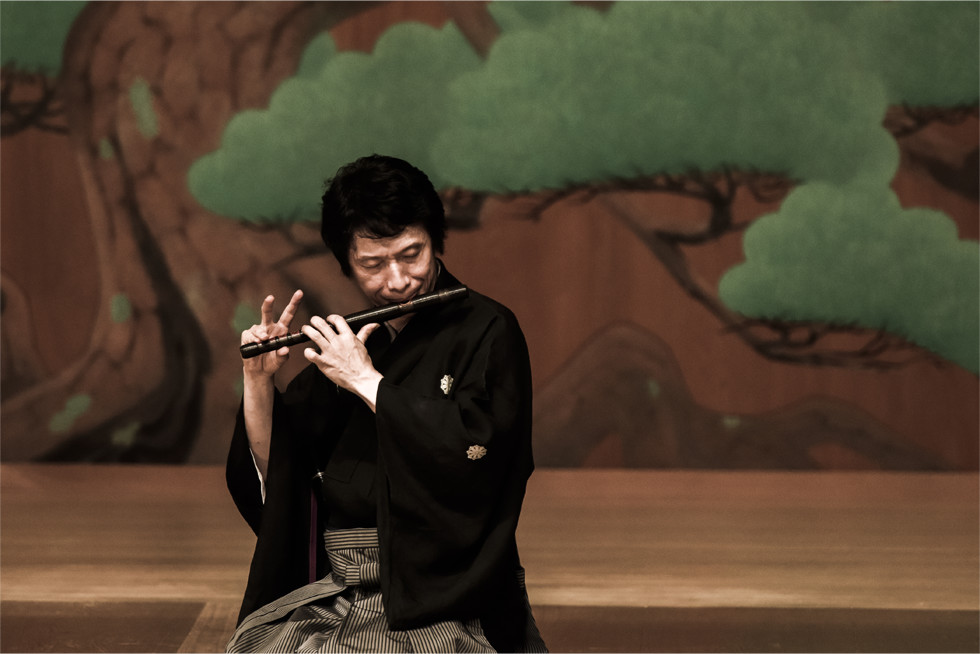 Yukihiro Isso was born into a family of nohkan virtuosi. Nohkan is the traditional transverse flute which is used to accompany Japanese Noh drama. Yukihiro is the eldest son of the late Yukimasa Isso, a national treasure and a legendary nohkan performer. The origin of the Isso school dates back to the Azuchi Momoyma era (1573 - 1603) and from this TIME the school has continued down to today without a break.
Yukihiro debuted at the age of 9 as a professional nohkan performer in Kurama Tengu and from this early age carried on performing major classical Noh repertoires such as Okina and Dojoji.
Apart from being an acclaimed performer of classical Noh repertoires Yukihiro is keen on the diversity of the flute family. He also plays the shinobue and dengaku (traverse bamboo flutes used for traditional festivals across Japan) and a variety of western flutes including the recorder. He even makes recorders and a type of horn and composes music for these instruments.
Yukihiro's diverse interest and love of music has led him to perform western classical, particularly baroque, jazz and world music. Yukihiro has a deserved reputation for improvisation. He is associated with many different forms of the performing arts and has collaborated with top performers in several diverse fields. Performers with whom he has collaborated include Kaori Muraji (guitar), Cecil Tailor (Jazz pianist), Min Tanaka (buto dance), Mansai Nomura (kyogen), Kaiji Moriyama (contemporary dance) as well as the Saltzburg Mozaruteum (Octet).
In 1991 Yukihiro started his concert series performed in Noh theatres and other traditional buildings. In 2004 and 2012, Yukihiro arranged and performed for the famous enka singers Ayako Fujii and Sayuri Ishikawa. He also collaborated in Kohaku Uta Gassen the most watched new year's eve TV music programme in Japan.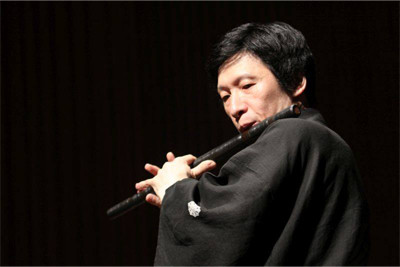 In 2011 Yukihiro performed Ikuma Dan's Symphony No. 6 Hiroshima for soprano, nohkan, shinobue and orchestra (1985) with the Yomiuri symphony orchestra conducted by Tatsuya Shimono, which went to on to receive the 24th Music Pen Club Award, (Classical Music Section).
Yukihiro has twice received the Creative Traditions Award from the Japan Arts Foundation.
Yukihiro was a lecturer at the National Noh theatre and has been designated an" Important Intangible Cultural Asset" by the Japanese government.
Noted performances and recordings:

1981 All Japan Recorder Concur 1st Prize.
1990 Fist Album-Tokyo Daruma Gaeru released.
1998 Performance for the opening game of the Yomiuri Giants (professional baseball team) at Tokyo Dome arena.
2006 Original composition Flute Fantasia suite performed alongside J.S. Bach's Suite for Orchestra No.2 with the Tokyo Philharmonic Orchestra (conducted by Seikyo Kim).
2010 Performance of Yukihiro's original piece at Japan Pavilion, Shanghai Expo
2011 Performed Ikuma Dan, Symphony No. 6 "Hiroshima for soprano, nohkan, shinobue and orchestra (1985) with THE Yomiuri symphony orchestra conducted by Tatsuya Shimono
2012 Started Yukihiro Isso concert series "Let's go to Noh Theatre".
Translated by akiko y/Dec 2014